Coloured concrete is an excellent alternative for projects with a limited budget and is suitable for almost any environment. And remarkably, coloured concrete is surprisingly affordable, generally costing only marginally more than plain concrete.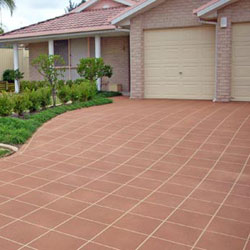 Essentially, any new indoor or outdoor concrete surface can easily be coloured with Hills Kerbs UV-resistant coloured pigments. The difference in the appearance between plain grey concrete and concrete that has been stylishly coloured is tremendous.
Manufactured from premium quality high strength iron oxides, our pigments are combined directly at the mixing stage so the colour is distributed evenly and deeply throughout the concrete. For existing concrete, we can apply topical concrete stains or coatings that will reinvigorate your tired old concrete and breath new life and added value into your property.
We have an extensive range of colours available for you to select and because the colour is mixed right through, even if damage were to occur over time, you will not see any unsightly grey showing as a result. We also offer concrete sealing as an option (recommended), which will not only protect your concrete from wear and stains but also give it a deeper, richer colour. Once mixed, the coloured concrete is poured and formed in the same manner as plain concrete resulting in a rich colour that is both weather and UV resistant.
Where can you use coloured concrete?
The addition of colour to a concrete surface makes an eye-catching and impressive statement. Not only is a coloured floor aesthetically pleasing, but it also adds increased value to your commercial or industrial property or home simply because the concrete remains in excellent condition over it's life. You can colour almost any type of new or existing concrete floor, such as:
Garages
Patios
BBQ & entertainment areas
Pool surrounds and wet areas
Driveways and pathways
Rumpus rooms and play areas
Showrooms
Warehouses
Foyers and forecourts
Industrial areas and factories
Shop floors and retail environments
Playgrounds
Coloured concrete brings fresh new value to any commercial or industrial environment or living space. We employ the most modern methods and techniques to colour concrete which are far more beautiful than painting and last the lifespan of the concrete making it a perfect option for high traffic areas.
Hills Kerbs' range of concrete colourants deliver beauty and visual appeal to all concrete surfaces no matter whether they are existing concrete, new concrete pours, or decorative concrete overlays. From integrated colour that has been added to the concrete mix, to a wide selection of externally applied concrete stains, our concrete colorants are specially developed to produce predictable, vibrant and longer lasting colour to any concrete or overlay project.
Coloured Concrete Projects
Coloured concrete is a great way to add value and beauty to boring old plain concrete. To see how coloured concrete from Hills Kerbs can enhance your property, please click on a thumbnail below.
Concrete Colour Chart
The choice of the most appropriate colours and their application is critical to the overall visual appeal and longevity of your new decorative concrete finish. That?۪s why it?۪s important to select a trusted expert. Our concrete colouring process leaves no streaks and we only use top quality colour sealers and hardeners.
Our experienced qualified professionals will guide you in selecting the right colour combination to ensure a perfect result and your satisfaction.