With well over 15 years practical experience, Hills Kerbs is the number one premier provider of concrete driveways servicing all areas Sydney wide.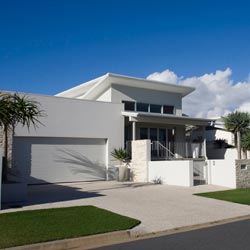 At Hills Kerbs we pride ourselves on creating just the right concrete solutions to suit your home. With expertise in all types of concrete driveways including coloured concrete driveways, stamped concrete driveways and decorative concrete driveways, we never take short cuts or compromise on quality.
Our team of professional experts will assist you to design the perfect concrete driveway surface for your home and guarantee you only the finest materials, concrete additives and customer service available.
Our size and strength means we can deliver you a total driveway installation service including drainage, cutting, site excavation, concrete pouring, colouring, stamping and sealing.
Hills Kerbs always uses the best quality products and our qualified skilled tradesmen ensure the highest standards of workmanship meaning your new concrete driveway will always compliment your home.
We are confident our outstanding customer satisfaction is unrivalled. For quality, craftsmanship, value and price, we simply won't be beaten!
Concrete Driveway Projects
We have more than 15 years extensive experience in the application of concrete stencils to virtually any type of concrete surface. To view some of our recent projects, please click on a thumbnail below.
Sydney's Premier Concrete Driveway Experts
Plain Concrete Driveways
For those with a limited budget, plain concrete is an inexpensive approach to build a solid and practical general driveway. Although not decorative, plain concrete driveways can easily be improved later on with spray-on coloured concrete, stencilling, colouring or sealing. Plain concrete delivers all you need and is a great option for a home on a tight budget.
Coloured Concrete Driveways
The most cost effective and affordable technique to obtain a coloured driveway in your home is to add a coloured tint to the sealer. Once your plain concrete is laid, the tinted sealer is applied to the area to give a fresh, uniform finish. The sealer is absorbed into the concrete making it hard wearing and long lasting, and with a huge range of colours to choose from, you will find the right colour for your home.
Decorative Concrete Driveways
Exposed aggregate concrete has fast become one of the most popular styles in decorative concrete driveways, with its modern look, natural beauty, non-slip surface and ease of cleaning it suits all styles of home and landscapes. It is created using special concrete mixes that combine unique aggregates which are exposed on top of the surface.
Exposed aggregate concrete achieves the most stunning concrete finish, and with a range of pebble mixes, your driveway will be a great feature of your home and landscaping.
Stamped Concrete Driveways
Hills Kerbs specialise in stamped concrete, it is designed to resemble brick, slate, flagstone, stone, tile and even wood. By imprinting patterns in freshly laid concrete, you can achieve the high-end look of stone, tile or brick pavement. It is often a lower cost and much less maintenance. There are also a wide variety of colours and pattern choices.The process is quite simple in that the concrete is poured, with or without colour. During the final process, the concrete is stamped with your chosen pattern.